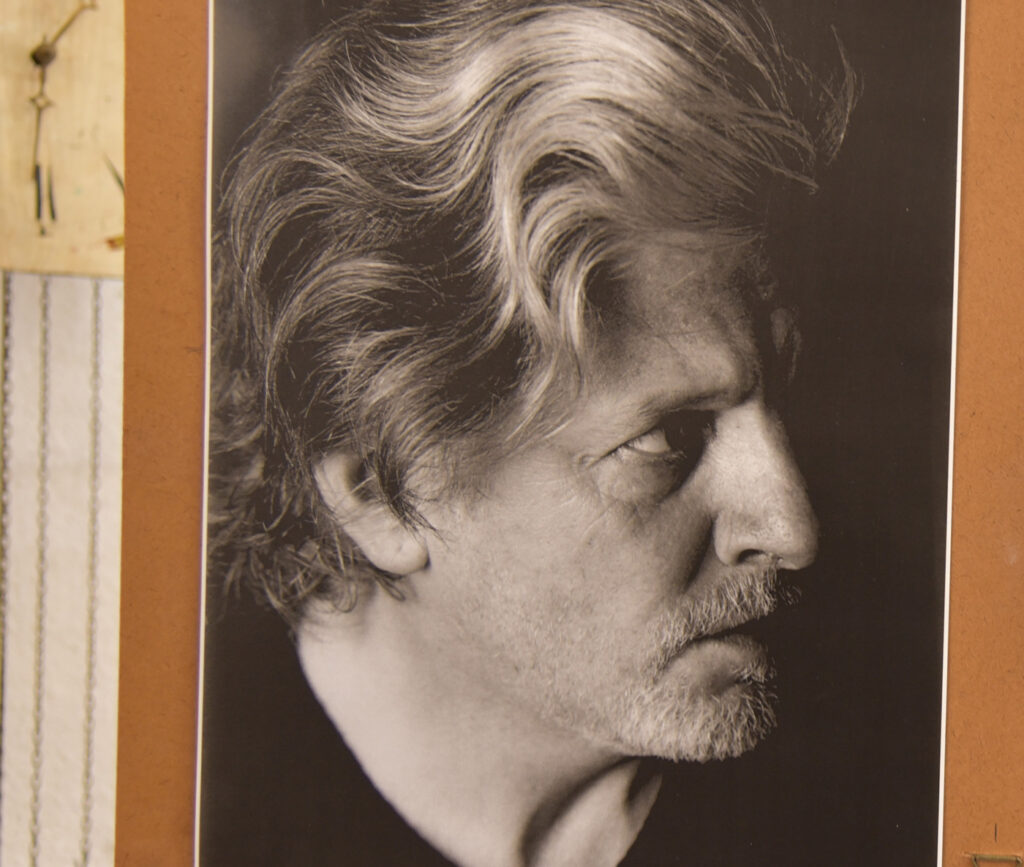 Christian Silvain was born in 1950 in Eupen, Belgium.
Due to the lack of interest of his parents, Christian Silvain spent most of his childhood years with two old aunts, who at the age of three or four awoke his taste for drawing and painting. He spent hours in this occupation while the aunts took care of their toy store located on the ground floor.
In 1955 his parents divorced. He then goes to primary school in Spa, where he learns French, and where he quickly disco vers his skills for art.
From 1957-1964, after school and later after work, he paints paintings in the attic corner, in the general indifference, that nobody looks at. More and more closed in on himself, sometimes abusing alcohol, the gap between him and his family is growing deeper and deeper. It is after the discovery of the work of Paul Delvaux that he definitively decides that he will be a painter and nothing else.
After the death of his two aunts, Silvain totally breaks with his family. He leaves for Brussels, without money, knowing no one on the spot, it is the beginning of a period among the most difficult that begins for him. Chansonnier at his hours he makes the sleeve to subsist, lives in a storeroom under the roof rue au Beurre, near the Grand Place of the capital.
From 1967, he worked at the operetta theater of Brussels in the northern district as a handyman and began to restore the backdrops used as a backdrop. He meets Maurice Béjart, befriends a few dancers and takes care of scenery for ballet of the 20th century. He meets Jacques Brel in the canteen of the Théâtre de la Monnaie, where they often have lunch together during the rehearsals of «the Man of La Mancha».
In 1968, Silvain was called for military service, but was reformed a few weeks later. He begins to paint his first surrealist paintings, strongly influenced by Paul Delvaux, whom he considers a little like his spiritual father, and with whom he will befriend many years later. He meets the mime Marcel Marceau, also a painter in his spare time and of which he is a surrealist portrait.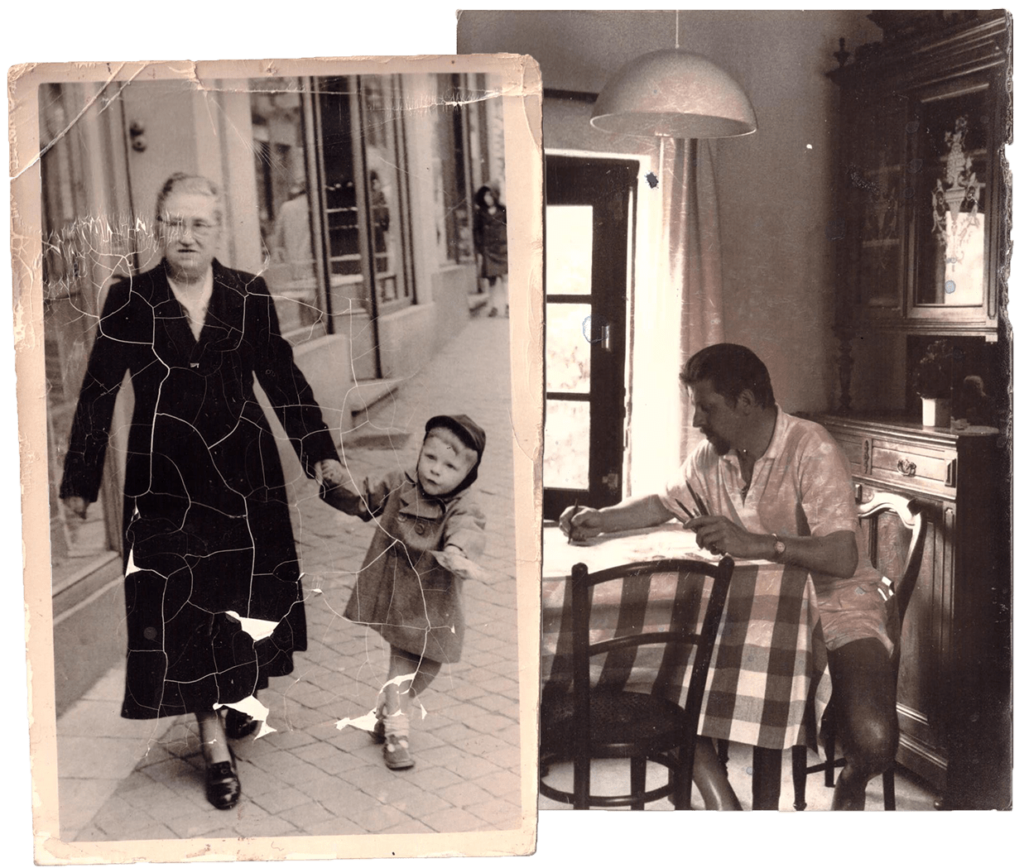 With aunt Johanna in Eupen, 1952 (left)
At Paul Delvaux's house in St-Idesbald (right)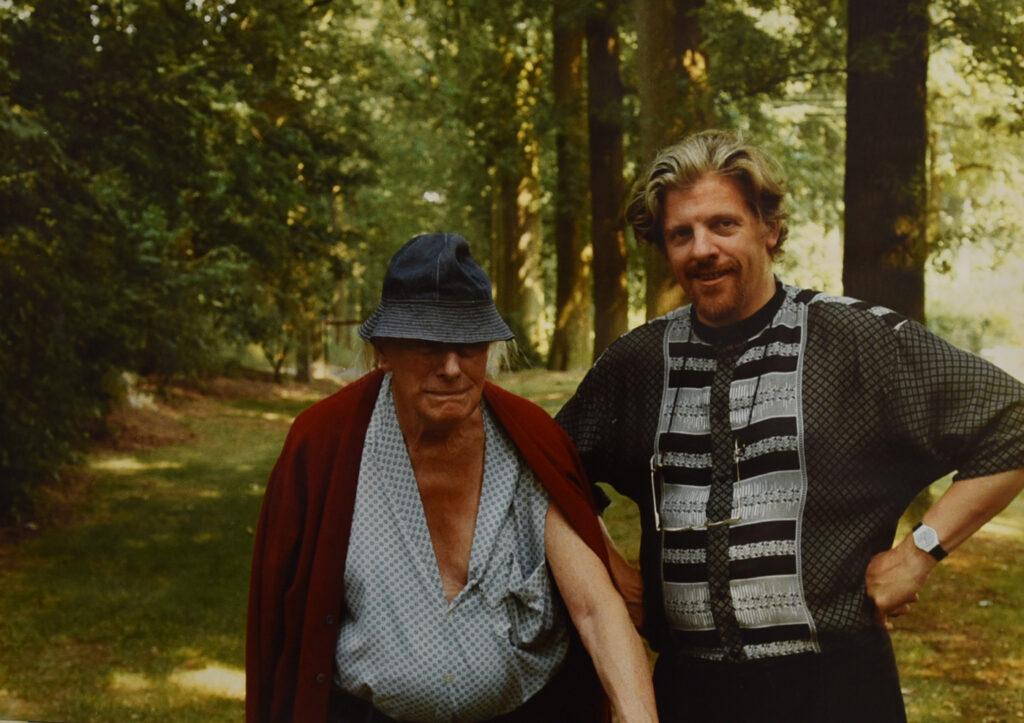 Paul Delvaux and Christian Silvain, 1986
This will be his first solo exhibition at Bernard van Berg in Brussels. The latter operated a fur store Avenue Louise, and bought his first works to support him financially.
He then travels to Paris and Germany with his friend Jacques Grootaert who is his agent at this time. In 1971, his first exhibition in Flanders at the Aymon gallery in Ostend was a great success. Following numerous exhibitions in Belgium and abroad.
He moved to Flanders in 1973, practicing engraving and sculpture for a short time. He engraved a score of etchings and carved some large nudes in Carrara marble.
In 1975, he met Guy Pieters who will be his merchant for 30 years. Throughout these years, he meets the greatest names in contemporary art at Guy Pieters and these contacts will constantly evolve his own work. Among others are Karel Appel, Christo, Jean Tinguely, Niki de Saint-Phalle, Arman, Corneille and many others who remind him of memorable parties after vernissages at Knokke Zoute.
At the beginning of the 80's, a new artistic rupture is announced. This is the so-called period of "facades" first very photorealistic, but soon covered with graffiti and tags.
The works of this period announce 30 years earlier the "street art". At the end of the 80s, the facades disappear little by little, to give way to a poetic art inspired by drawings of children with autism or mental disabilities that he often visits in specialized centers, and which remind him of his own difficult childhood and solitary of which he has not yet finished chasing ghosts today.
In 1984, his adoptive father, Alphonse Faymonville, died. From this period is the definitive break with his mother Maria he never reviewed. He now exhibits all over the world and many museums acquire his works. The Ludwig Museum in Germany devotes an exhibition to his series of works entitled «The prisoners» in 1988. Eleven paintings by Silvain are acquired by the Ludwig Museum.
Since 2002, Silvain has produced works in black acrylic ink, with a scarlet red figure in the center of the painting, sometimes representing a huge rabbit, an elephant, the head of an imaginary mother, a Mickey Mouse, the fund of the work being riddled with disparate objects, broken toys, airplanes, knives, and where often appear short sentences, sometimes shocking, a disillusioned poetry where words like "mutti" or "fear" come back tirelessly.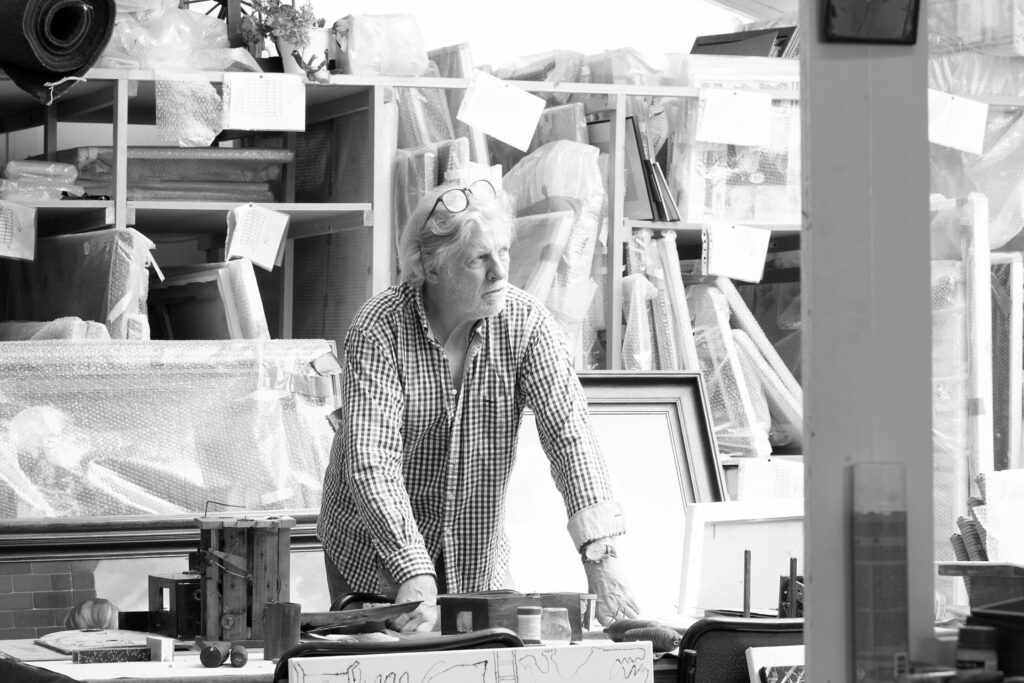 Christian Silvain dans son atelier , 2023
Photography Delphine Meersschaert ©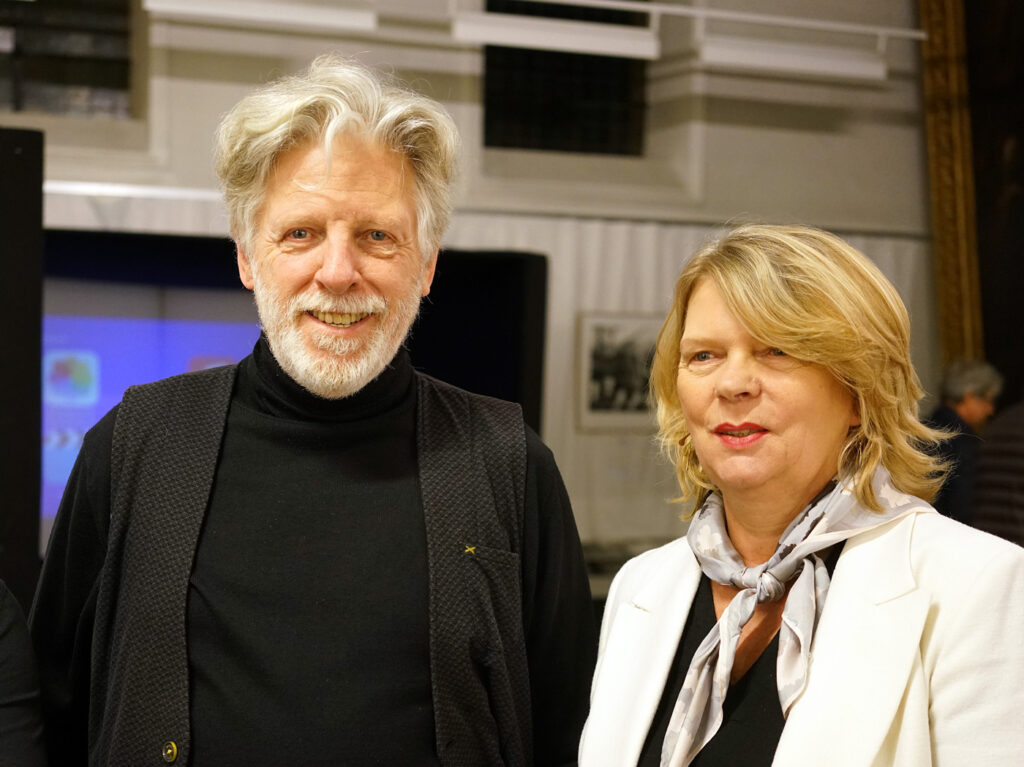 Christian Silvain and Martine Ehmer, 2019
Photography Michael Bohn ©
In 2019, articles were published in the Belgian, French and Chinese media about Christian Silvain's plagiarism by a renowned Chinese artist, Ye Yongqing. This last plagiarizes Christian Silvain for more than 30 years. It is at the bend of an exhibition that the latter discovers the original works and is inspired by them to the point of copying them. The style but also many characteristic symbols of the paintings of Christian Silvain are thus found at Ye Yongqing: «the bird, the nest, the cage, the red cross, the plane …». Sometimes only a few details differentiate the two artists.
The case makes a splash in China where Ye Yongqing is accused of fraud by customers. The Chinese people consider themselves offended by the actions of this one and plead in favor of Silvain, testimonies of support tributary.
But the Belgian artist does not let himself be shaken by the case, he continues to produce in his Kluisbergen studio and many exhibitions are expected in Brussels, France and China.
Silvain has exhibited in art galleries around the world, including at the Guy Pieters Gallery in Belgium, at the Magna Galerie in New York, at the Vasarely Foundation in Aix en Provence, at the Galerie du Center in Paris, Ludwig Museum in Germany, Galerie de Laive in Amsterdam. Silvain's works have been exhibited in several art fairs in Europe and the United States. Silvain is represented in more than 70 museums and public collections in Brussels, Tel Aviv, Ludwig Museum, Prague, Vienna, Ottawa, Amsterdam, Dusseldorf, Nice and elsewhere.
About thirty books and catalogs on his work have been published to this day. The Christian Silvain Foundation was founded in 1992 and has about 475 works, including paintings from all periods, from his childhood to today. His favorite artists are Chagall, Alechinsky, and his spiritual father Paul Delvaux. He lives in Kluisbergen (Belgium) and works 10 to 12 hours a day, already knowing that anyway he will not have time to tell us everything…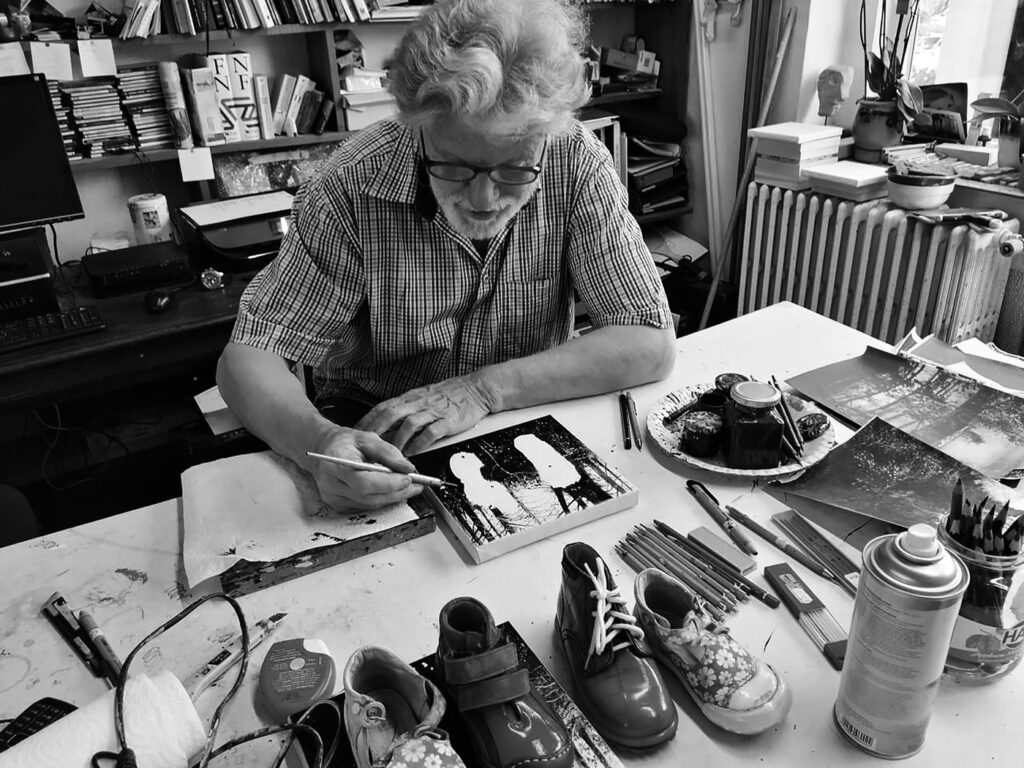 Christian Silvain in his studio, 2019
Photography Julie de Bleeckere ©